Crossout Mobile v1.1.0.43586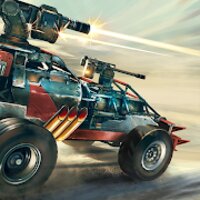 Interface language:
Category:
Android version:
Size:
Developer:
Price:
Russian/English

Android 6.0

974 Mb

Gaijin Distribution KFT

$0
Crossout Mobile - Immerse yourself in dynamic battles that take place in huge detailed locations. The main idea of ??the game is to create your own unique combat vehicle, along the way, equipping it with a large amount of weapons and armor. But the possibilities do not end there, because each part has its own unique characteristics and properties, experiment with weapons by installing a wide variety of guns and invisibility generators on your vehicles and more. It is worth noting separately a wide assortment of parts with which the player has the opportunity to create both a semi-aircraft and a huge, low-maneuverable iron monster with practically invulnerable zones. After minor improvements, go straight to the battlefield, where more than one million players from all over the world take on battles, unite in indestructible coalitions or create your own unique clan, the choice is only you!