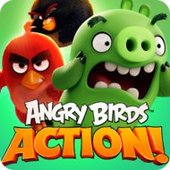 Angry Birds Action! v2.6.2 (MOD, Infinite Gems/Coins)
Information:
Interface language:

Русский/English

Android version:

Android 4.1

Size:

33 Mb + 413 Mb

Developer:

Rovio Entertainment Ltd
Subscribe for updates
Subscribe
Total Subscribers:

0
Description:
Angry Birds Action! (MOD, Infinite Gems/Coins) - With the release of the new animated cartoon developers Rovio again give us the opportunity to play the most famous evil ptichkami.Uzhe have a lot of similar games of this series but this stands out from all the crowd, and for the better storonu.Igra very bright and beautiful, but that's the pros not end, The picture of the game and the mere sight of our heroes in the game very much changed, probably yield cartoon made itself felt, but perhaps it's better, is not it has become more varied and brighter. Game play in the game is probably obvious to all as you will have to destroy everything, to reach and save the eggs from the evil pigs.
Obb for game Angry Birds Action! (MOD, Infinite Gems/Coins) unpack from archive
sd/android/obb
Download:
Download Angry Birds Action! v2.6.2 (MOD, Infinite Gems/Coins).apk
Download Angry Birds Action! v2.6.2 (MOD, Infinite Gems/Coins).zip