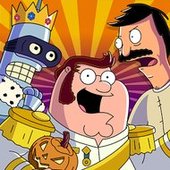 Animation Throwdown: TQFC v1.0.15 (MOD, unlimited money)
Information:
Interface language:

Русский/English

Android version:

Android 4.0

Size:

79 Mb

Developer:

Kongregate
Subscribe for updates
Subscribe
Total Subscribers:

2
Description:
Animation Throwdown: TQFC (MOD, unlimited money) - This exciting game will allow you to plunge into the world of cards of your favorite cartoons. Such as: FAMILY GUY! BOB'S BURGERS! FUTURAMA! AMERICAN DAD! KING OF THE HILL. You will enjoy an unforgettable world where you have to collect the most powerful deck of cards. From the collected combination will depend on the further outcome of the game.
Download:
Download Animation Throwdown: TQFC v1.0.15 (MOD, unlimited money).apk