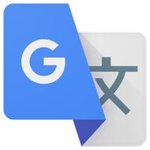 Google Translate v6.2.0.RC07.268294262
Information:
Interface language:

Русский/English

Android version:

Android 4.2

Size:

26 Mb

Developer:

Google LLC
Subscribe for updates
Subscribe
Total Subscribers:

0
Description:
Google Translate - An application that will help you at any time and at any time. It also has built-in voice input, which will significantly reduce your time. You will only have enough to specify from whatever you need to translate and wait a few seconds. The program will do everything itself.
Download:
Download Google Translate v6.2.0.RC07.268294262.apk